New Bait Machine Location!
Friendly Food Mart3606 Nazareth Pike, Bethlehem, PA 18020
Birdsboro Mart 6600 Perkiomen Ave. Birdsboro, PA, 19508
Sunoco 3100 State Hill Road Wyomissing, PA 19610
On the way to Blue Marsh Lake!
Fish Tales
Appeared in the Reading Eagle
Published 05/08/2013
How a 100-acre farm became a top producer of everything from catfish to worm castings.
By Teresa McMinn
Reading Eagle correspondent

Carolyn Watts, her husband David and their daughter Bonnie stood over a large water trough filled with fish.
Nearby, Richard Kurtz placed a large koi into a plastic bag for the family to take home and set loose in their backyard pond.
"I got my first koi from him 15 years ago," said Carolyn of Union Township.
The family was recently at Kurtz's Fish Hatchery in West Nantmeal Township, Chester County, near the Berks County line.
The farm includes more than 35 ponds, where Kurtz raises fish. One of the lakes is named Melody, after Kurtz's sister, who lives nearby.
The setting has changed a lot since his father, Mahlon Kurtz, purchased the 100-acre farm some 60 years ago.
"This was all swampland," Kurtz said, pointing to the ponds. "When Dad first started we could put a pond in for a thousand bucks."
The family started the hatchery and got into the bait business around 1960. Mahlon Kurtz also operated a paint store in New Holland.
"He was the first private paint contractor in the area," Kurtz said. "And then he was the first fish farmer in the area."
Today, Mahlon Kurtz and his wife, Charlotte, are in their mid-80s and live in a nearby retirement home.
Kurtz and his wife, Barbara, own the fish hatchery and worm business and live on the farm. But the 100-acre property is owned by Kurtz's son, Matthew and his wife, Katie, who also operate a vending machine company through which they sell live bait.
Kurtz's Fish Hatchery's products include bass, bluegills and channel catfish – a big seller for the company.
"They're all white meat," Kurtz said. "You get a good farm-raised catfish and that's the best eating of all the fish we raise."
The business also sells bait, including eels, crayfish, tadpoles, minnows and various worms and crawlers. The products can be found in roughly 100 retail shops in Berks, Chester, Lancaster and York counties, and in parts of Maryland and Delaware.
Bait, Kurtz said, is the largest part of the hatchery's business.
"We also sell the worm castings for gardening and potting for flowers," he said. "We can't keep it in this year."
Some of Kurtz's fish end up in laboratories for testing by private companies or government agencies, among them the federal Department of Homeland Security. He's not sure what DHS does with the fish, but theorized they may use them for water testing.
"Everybody in the U.S. is affected by this little farm in one way or another," Kurtz said.
Running the business has its ups and downs, he said. "It's a seasonal business and we can make our own hours," he said. "But vacations are few and far between anymore."
But the family is not complaining. The work can be relaxing at times and the farm is a haven for many species of birds, including storks that arrived with Hurricane Sandy, Barbara Kurtz said. "It's like an ecosystem here."
Contact Teresa McMinn: 610-371-5025, or [email protected]
——————————————————————————————
Baiting Anglers – Feb 27th 2008
TWO MEN PURSUE THEIR LOVE OF THE LIVE BAIT BUSINESS
By BRIAN McCULLOUGH, Staff Writer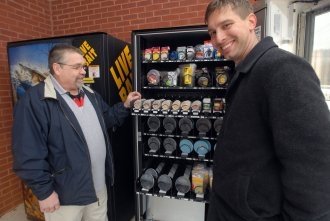 Photo by Amy Dragoo
WEST NANTMEAL — Gary Harsel and Matthew Kurtz are moving to new fishing holes — larger ones for each.
Harsel, one-time owner of his own live tackle shop in Birdsboro, has spent the last decade developing and operating a unique vending business.
Called PA Live Bait Vending, Harsel developed a territory for live bait vending machines in Chester, Montgomery, Delaware, Berks and parts of Lehigh counties.
Last month, he sold that business to Kurtz, who, along with his parents and wife, run the 100-acre Kurtz Fish Hatchery in Elverson started by his grandfather.
The sale gives both the opportunity to pursue new markets within an industry they love.
"This gives me more time for my passion, research and development of these machines," Harsel said.
"This has been a family passion since I was a little kid," Kurtz echoed. "With the mom-and-pop bait shops declining, these machines present a great opportunity."
Kurtz bought 20 machines from Harsel, adding to the four he already operated.
Kurtz had already supplied Harsel with the bait for the machines from the fish farm, which itself is celebrating 50 years in business.
"In essence, I become a customer to the family hatchery," he noted.
Fueling the optimism for the new arrangement is the improved technology in the machines.
The original machines Harsel stocked could vend six types of bait. Several years ago, he developed the Liberty 24 Hour Bait Shop that can hold 24 varieties that is now sold across the U.S. and is moving toward worldwide distribution.
"We have plans for a second model (called the Atlantic) due out in late spring or early summer for the salt water market," he said. "I've gotten inquiries from Spain, the Czech Republic and two from Australia."
Locally, the company's machines are in West Chester, Coatesville, Downingtown, Honey Brook, Pottstown and Boothwyn.
They are located at car washes, archery shops, hardware stores, convenience stores and bait shops.
The one in Boothwyn is in front of a Wal-Mart.
"We need these in our area because the bait and tackle shops are closing up," Harsel said.
Nationally, the machines can be found as far away as Albuquerque, N.M., and Salt Lake City, Utah.
"I'm into sales," Harsel said. "When you make your money on a product you know is reliable, it's a pleasure."
The improved reliability was a big reason Kurtz was comfortable expanding his presence in the live bait vending arena.
"They've come a long way," he said. "There's no kicking the machines. You can see exactly what you're buying.
"The machines keep the bait at a constant 45-degree temperature, optimum for the wide variety of baits involved, Kurtz said. During heavy fishing season, the machines are stocked every week. During the slower months, they are serviced once every two weeks or so Harsel, and now Kurtz, pay the owners of the businesses where the machines are located to have them there and/or a commission for the product sold."They need to be in a high-traffic area or it doesn't work," Harsel said.
They further benefit retailers by attracting anglers to their stores for coffee, drinks and food, the machine operators said.Kurtz said a second market seems to be opening up for the machines: pet food vending.
Residents appear to be buying the bait for their lizards, geckos and turtles.
"I've been amazed at how busy they've been during this time — and apparently that's what's been going on," Kurtz said.